Breakfast at our Bed and Breakfast
Breakfast Blueberries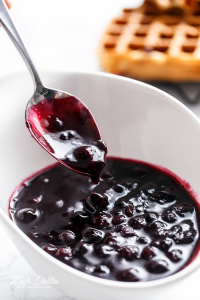 We serve this blueberry sauce with our breakfast waffles. It can be made with both fresh or frozen blueberries. Frozen blueberries actually work best. Thick and sweet, this is a quick, easy sauce and perfect for topping waffles. We always serve the blueberries and waffles with a dollop of cream cheese.
---
Ingredients
1 1/2 cups blueberries (I prefer to use frozen)
1/2 cup water
1 tbsp sugar
1 tablespoons cornflour dissolved into 2 tablespoons water
1/2 teaspoon vanilla
---
Method
Place 1 cup of blueberries in a small saucepan. Cover with water and add sugar and vanilla. Heat over medium-high heat until mixture comes to a low boil and blueberries just start to break apart.
Add the dissolved cornflour to the saucepan and bring the mixture to a boil. Turn the heat down and simmer for 2-3 minutes, or until sauce reaches desired consistency. Add more water, one tablespoon at a time, if the sauce gets too thick.
Remove from the heat. Add remaining 1/2 cup of blueberries and stir gently.
Warm a little before serving to thin the sauce slightly.
Please follow and like us: