Breakfast at our B&B
Breakfast Muesli Cups
A recipe for a special little breakfast I found on Pinterest! They look gorgeous, are interesting, tasty, reasonably healthy and wonderfully simple! Our guests really enjoyed them as they were not too heavy or "cooked". Great for a breakfast on the deck with good coffee, fresh fruit and a fruit smoothie (and a sneaky blueberry danish as well).
The toppings can changed around depending upon what is in season. I made these when we had no fresh berries at hand, so I used mandarins as well as bananas and grapes. It's pretty important to use a tasty thick Greek style yogurt as the filling needs to be quite firm or the cups could get soggy.
Use whatever fruits are in season and nuts that take your fancy and enjoy.
Breakfast Muesli Cups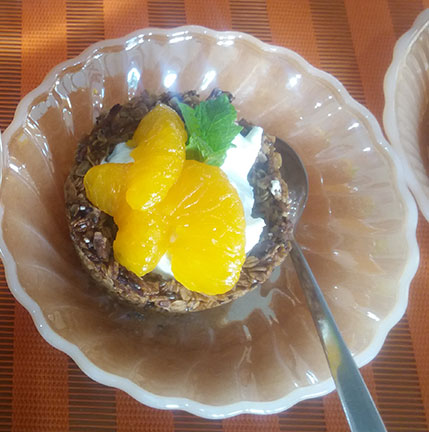 This recipe makes 4 -5 small tarts so I doubled it.

1 1/2 cups rolled oats
1/2 cup shredded coconut
2 tbsp chia seeds
1/2 tsp cinnamon
1/4 cup + 1 tbsp coconut oil (I used rice bran oil)
1/4 cup honey or maple syrup (I used a mixture of golden syrup and honey)
Filling
1 cup natural yogurt or coconut yogurt (I used Puhoi Greek yogurt which is already quite sweet).
1 tbsp honey, stevia or other sweetener (I didn't add any sweetener).
1 tsp vanilla (I didn't use any).
Pre-heat the oven to 180.
Combine rolled oats, coconut, chia seeds and cinnamon in a large bowl, set aside.
Melt oil and honey in a small saucepan over a low heat.
Pour melted oil & honey over the dry mixture and stir to coat well.
Place spoonfuls of the mixture into greased muffin tins, using the spoon to press in as much as possible.
Bake for around 15 minutes, checking to ensure they don't brown too quickly.
Remove from the oven and working quickly press the cups firmly into the tin using the back of a spoon a second time. (This step is important.)
Allow to cool completely before removing from the tins.  (This step is also very important. Be patient or your breakfast muesli cups will end up being breakfast muesli crumble.)
Add spoonfuls of the yogurt mixture into each muesli cup and top with fruits of your choice.
I served these in small individual dishes.
This recipe and lovely photo came from http://pheebsfoods.com. The not so good photo was the one I took!
Please follow and like us: