Breakfast at our B&B
Oven Baked Breakfast Rosti With Smoked Salmon
Thanks to Sarah Barnes from http://www.tamingtwins.com for this great recipe. These rostis are quick to whip up and they freeze beautifully. I slightly undercook the rostis so they can be freshened up in the oven for a couple of minutes.
These breakfast rostis are great to have on hand as a gluten-free option.

Ingredients
2.5kg potatoes
6 tsps wholegrain mustard
4 eggs
fresh dill chopped
Salt and pepper
200g butter
To serve
Sour cream
Avocado slices
Smoked salmon
Balsamic glaze
Salt and pepper
More fresh dill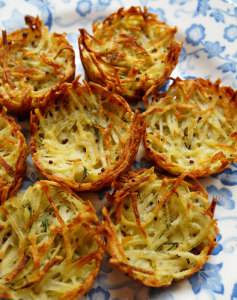 Method
Preheat the oven to 200c.
Peel and grate the potatoes and then squeeze out  all the liquid by piling the grated potato into a clean muslin cloth or tea towel and twisting it together into a ball, hard.
Stir in the mustard, beaten eggs, plenty of salt and black pepper.
Brush 2 muffin trays (24 holes) with the melted butter and pour the rest of the butter into the potato mixture and stir.
Divide the mixture between the tins, pressing down into each muffin hole.
Bake for about 20 minutes or until golden and crisp.
To serve
When the rosti are cooked, allow them to stand for 5 minutes, before loosening the edges with a round ended knife and 'popping' them out.
Fill the rostis with sour cream and top with slices of avocado, smoked salmon and a slice of fresh tomato. Sprinkle with fresh dill, a wee drizzle of balsamic glaze, salt and pepper.
I also serve these with bacon, tomato, avocado and basil
We take breakfast to our guests in their room where they can eat it in the lounge or on the deck enjoying the views out over the park and Hauraki gulf. We're only 45 minutes from Auckland and close to Orewa, Warkworth and Matakana.
Please follow and like us: