Breakfast at Mahurangi West Wing
During autumn we have a plethora of figs which grow wild down at one of our local beaches. I found this recipe on the Australian Broadcasting Corporation website and was really pleased with it. The vanilla with the figs makes for quite a decadent breakfast. The stewed figs also freeze well which means I can serve these to our guests all year round – well as long as they last without being gobbled up!
Please note the photo is not mine as I am hopeless with a camera, but this "found photo" is a pretty close rendition of how they looked.
I used slightly less honey than the recipe called for as I just found it a wee bit too sweet.
Breakfast Stewed Figs
Stewed Vanilla Infused Figs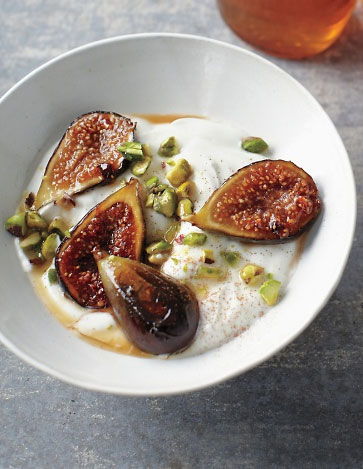 These figs are great as a special breakfast with yogurt and cereal. Our guests also ate them as dessert!
Ingredients
2 tablespoons honey (I used 1 tbsp but I guess it would depend on the sweetness of the figs)
1 tablespoon water
1 vanilla bean (I used 1 tsp of vanilla extract)
2 strips of lemon zest
250g fresh figs
---
Method
Rinse the figs and pinch off the stems. Cut them in half.
Split the vanilla bean in half.
In a small saucepan, combine the honey, water, vanilla bean and lemon zest over a low flame.
Stir to dissolve the honey and turn off the heat.
Add the figs, gently toss them in the honey mixture, and let them rest, covered, for an hour.
Turn the heat to very low and gently simmer the figs for 30 to 40 minutes, turning them carefully so that they don't fall apart but are just cooked through.
Remove the pan from the heat and let them cool to room temperature.
To serve, divide the figs between two bowls and spoon their pink syrup over them.
---
Chef: Sara Morley
Please follow and like us: