Sunday Drive: Mahurangi Regional Park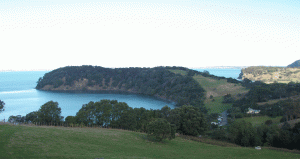 Getting there: There are three prongs to Mahurangi Regional Park. To reach the main area, head north from Auckland city on SH1 and keep going until the end of the Northern Motorway. At the roundabout turn right on to Grand Drive and follow the road, still SH1, into Orewa and around the bays past Waiwera, until you see the Mahurangi signpost 6km past Wenderholm. Turn right into Mahurangi West Rd, then right into Ngarewa Drive and keep going to the end of the road.
To reach Scott Point, on a peninsula south of Snells Beach, turn off SH1 at Warkworth and follow the signs to Snells, then about 1km past the beach turn into Ridge Rd. The most remote part of the park, Mahurangi East is accessible only by boat.
How long: About an hour's drive from Auckland CBD.
What to do: Mahurangi is a great spot from which to admire and appreciate large tracts of regenerating native forest. Rangers, with help from volunteers, have planted more than 70,000 trees, which are now attracting tui, grey warblers and shining cuckoos. The main part of the park includes three gorgeous bays – Te Muri, Sullivans and Mita – which are all good for swimming, kayaking and boating.
There are several walks around different parts of the park, of varying difficulties, all taking two to three hours. The walks take in clifftop views from Tungutu Point stretching across to the Coromandel on a clear day, a historic cemetery, mudflats and, at Scott Point, the historic Scott Homestead. At low tide you can walk from Scott Point across to the Maunganui conservation reserve. If you are looking to stay longer than just a day, there are also several baches within the park, and two campsites.
Hungry? There are no designated picnic sites in the park but there are plenty of gorgeous spots where you can throw a blanket on the ground. Bring your own gas BBQ if you want something hot.
Want to know more? Visit www.arc.govt.nz/parks