Ransom Wines
Matakana is a tiny region, about an hour drive north from the city. Warm maritime climate, mainly clay soils and nice slopes make this area well suited for wine growing. However, you might be surprised that you can find there only about a dozen of producers. And all of them have no more than few hectares of vineyards.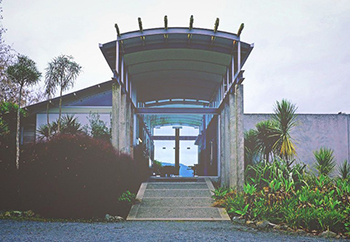 One of the producers we visited was Ransom Wines. Our visit to Ransom Wines was one of the best we had so far. Wonderful wines, lovely and passionate people, beautiful landscape and magnificent architecture. Fantastic time! I have already written about their Pinot Gris, so you may imagine that I was very excited about that visit.
The history of the winery started in the early 90s of last century when Marion and Robin helped they friend in setting up his winery in Nelson. It was hard not to fall in love with wine making, so soon enough they started to look for a vineyard of their own. Still, owning a winery and making wine was not risk free, so Marion and Robin decided to keep their jobs in Auckland and looked for vineyards around the city. Fortunately, they found land in Mahurangi Valley and planted first vines in 1993. And in 1996 they could celebrate their first harvest. Later, other members of their family joined and now they proudly say that they are a family winery. Family which is obviously called Ransom 🙂
And what is their philosophy of wine growing and wine making?
Our aim is to maximise the advantage of our soils, climate and topography to produce wines of elegance and finesse which will complement food and age gracefully.
We started our tasting with recently bottled Albarino from 2015 vintage. Wonderful wine, resembling lighter versions of its relatives from Rias Baixas in Spain. Orange, apricots and limes in the nose. Very fresh and even ethereal with high acidity and delicate minerality. Points: 87+
Second wine of the tasting was Clos de Valerie Pinot Gris 2012 (the one we had with mussels some time ago). I must admit that I got excited one more time! I'm even willing to say that this has been the best New Zealand Pinot Gris I have tasted so far! And surely this was the one which could compete with Pinot Gris from Alsace. Peaches, apricots, pineapple, citrus, a bit oh honey, good acidity, elegance and light minerality. Splendid wine! Points: 90
Vin Gris was a rose from 2015. Good, refreshing rose with aromas of strawberries and raspberries and good acidity. Points: 85+
Mahurangi 2012 was a blend of Syrah, Malbeca, Cabernet Franc, Carmenere and Cabernet Sauvignon. Such a blend made in a good winery could not go bad, could it? Fruit bomb with toasts, light vanilla, medium+ acidity, elegance and long finish. Points: 90+
Another wine made us almost travel to Chile. Every winelover knows the Chilean story about Carmenere who was thought to be Merlot for many years. Only in the 90-ties it was discovered that the flagship grape of Chile was not Merlot but Carmenere. Well, believe it not, but similar story happened in New Zealand. For many years it was believed that Carmenere was Cabernet Franc. However, recently some DNA tests have proved the real identity of the grape. Still, if I had blind tasted this 100% Carmenere I would have said that it was a more muscular version of Cabernet Franc from Loire Valley. Dark fruit, earthiness, spices, flowers and olives. High and astringent tannins, high acidity and long finish. I loved this wine! Points: 90
Dark Summit 2011 was indeed very dark wine. Imagine the 20-ties of 20th century, USA, night time club, cigarettes smoke, gangsters and illegal gambling — this is what this wine is about! Points: 91
Syrah 2013 is a fabulous wine. While Carmenere and Dark Summit were kind of brutal, Syrah is very subtle, soft and even sexy. Points: 89+
Grandmère Pinot Gris Doux Naturel 2014 is a sweet version of Pinot Gris. Even though I love sweet wines (this is what happens when you visit Mosel and Rheingau every summer), I was not convinced by this wine. I'm not saying it was bad, rather that it didn't have enough acidity backbone. Points: 84
The last wine we tried was a very curious wine — Cabernet Fort 2003. This was a surprise even for the winemaker himself. Cabernet graped shriveled on the vine and they almost got discarded. Fortunately, Robin decided to do an experiment and use them to make a port-like wine. The wine spent 6 years in oak barrels and 3 years in the bottle. And yes, it was worth it! The wine was full of sweet dark fruit, dark chocolate, toasts, licorice, spices and dried plum. Add to this medium acidity and long finish and you get exceptional wine. Points: 90
Cheers!
Jakub Jurkiewicz – Wine Weekly from Kiwiland
Please follow and like us: