The best things to see and do in Orewa
Bike, swim or lick an icecream at this beachy paradise, writes Elisabeth Easther.
If you're looking to stay a little longer that the afternoon, you'll need a B&B near Orewa. See if our room is available at a time that suits you. Our bed & breakfast is about 17kms north of Orewa.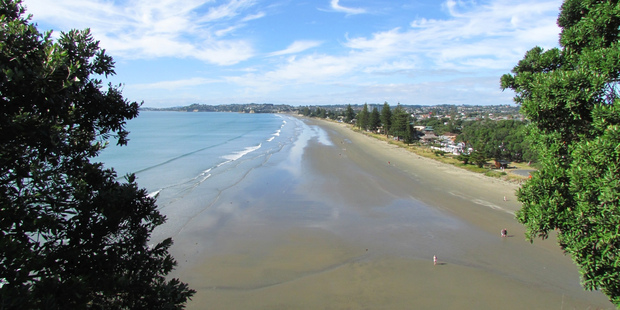 Origin of name: Named for the native tree, the rewarewa, over time it was truncated to Orewa.
Population: 9180.
Town slogan: Pure beachfront.
Tunnel vision: When the Northern Gateway Toll Road opened, Orewa was no longer on the main road heading north; the place is so much nicer without all that traffic.
Grab a selfie: Take a holiday snap with Sir Edmund Hillary. Sculpted by Chen Wei-Ming, the statue was erected in Hillary Square in 1991.
Best website: orewabeach.co.nz.
Town fiestas: The Orewa Big Dig is a charming Lions fundraiser held each summer and the Santa Parade is also groovy. The Saturday morning farmers' market is another good reason to visit. Plus there are plenty of cultural and sporting events throughout the year.
Here for a short time: Ride a bike, go for a swim, lick an icecream, and admire the 3km of heavenly beach.
Best time to stop: Of course it's dandy during the height of summer, but it's also popular in winter and particularly invigorating during a storm.
Who lives here: Orewa is all the rage for retirees and young families looking for a more laid-back life.
Kids love: The beach, the icecream joints and the holiday programmes at Estuary Arts. The new-ish skate park beside the estuary is an amazing facility although it's more for serious skaters than beginners.
Best parks: Orewa is bursting with open green spaces, wetlands and that glorious beach. Further up the road, Wenderholm Regional Park is another phenomenal place to explore.
Best playgrounds: There are several playgrounds dotted along the seafront including a boat-themed area for juniors with swings and tube slides as well as other more sophisticated facilities with climbing and spinning paraphernalia. Volleyball and basketball can be played right by the beach.
Best walk: Immerse yourself in bush and birdsong at Alice Eaves Scenic Reserve on Old North Rd. With about an hour's worth of tracks, loops and A to Bs, the mature kauri and nikau, with peeps of sea between their trunks, tower above elegant boardwalks and, if you go at night, you'll see glow-worms.
Best views: Anywhere out to sea is pretty special or park yourself upstairs at Brew Bar and toast the sunset. If you're a lark, rise with the sun for some spectacular colours.
Best place to pull over: Heading north towards Waiwera you'll find a viewing platform on the sea side of the road. Climb the stairs and gaze down on the length of Orewa Beach.
Best swim: All along the coast is epic with plenty of room for everyone to have their own little spot. The waves are mostly gentle, although they can kick up in some conditions, while over at the estuary there are lots of safe paddling spots for juniors. And, of course, between the flags outside the surf club is the sensible spot.
Best hot pools: Waiwera's geothermal mineral pools range from cool to 48C, plus there are private spas, a lazy river, a movie pool and some seriously speedy hydroslides, so make sure your togs are tied on tightly.
Best museum: Neighbouring Silverdale's Pioneer Village is where the history buffs go to learn about the region's past.
Nice arts: The Estuary Arts Centre is a gorgeous gallery with shop, teaching unit and school holiday programmes. Pretty things to gaze upon and buy.
Top shops: Animal Natural Health is a fab place to get affordable wholesome pet food. Their offal-rich kitty mince is a huge hit with our feline friend. Or for something more fragrant, stop in at Flowers by Joanne, divine aromas, bouquets and gifts.
Cream of the coffee: Driftwood Cafe at the art centre can be relied on, plus their quiches, cakes and sausage rolls are tasty too. Other good coffee joints includeMozaik, Walnut Cottage Cafe, and the BP station.
Baked: Le Croissant is a French bakery selling the most delicious croissants, bien sur.
Best food: Coast Bites and Brews does delicious food with one of the finest views in town. They serve Deep Creek beers — highly recommended by the Travel Editor — and it goes off of an evening if you're that way inclined. Tuesday night, it's all you can eat ribs. For wholesome snacks, salads, juices and smoothies, check outCharlie Coco's. Kotare Bistro at the surf club is also grand if you're fond of seafood beside the beach.
Wet your whistle: Aside from Coast, another heavenly sipping spot is the top deck of Orewa Surf Club. Bliss.
Best cycling: Hire a bike from BikeMe for just $10 an hour and cycle the fabulous Te Ara Tahuna Pathway, a 7.5km loop around waterways and wetlands and almost all off-road. Mostly flat, cyclists of all ages will enjoy this.
Best adventures: Pop in to Underground Surf and hire a surfboard or stand-up paddleboard. You can even take a lesson if you're new to either art. No surprises that kayaking, kitesurfing and fishing are pretty popular too
Wildlife: The bird life is plentiful but don't give the seagulls a single morsel if you're fish and chipping on the beach, because you will be swamped.
Safety warnings: With a busy-ish road between town and the beach, do be careful when crossing, and drive slowly if you're passing through.
The verdict: A little slice of paradise just 20 minutes from the Auckland Harbour Bridge.
http://www.nzherald.co.nz/travel/news/article.cfm?c_id=7&objectid=11726142
Please follow and like us: