Auckland Escape? Kia Ora: Puhoi Village
Origin of name: Maori for slow water – a reference to the tidal river that rules the town.
Population: 500.
Town slogan: Puhoi: Historic Village.
Town origins: Settled in the 1860s by hardy pioneers from Bohemia, now part of the Czech Republic, the intrepid Bohemians were lured with the promise of free land. Hard slog ensued but the hardy souls proved more than up to the challenge.
Look lively: One of Puhoi's historic bullock teams featured a legendary fellow named Lively. Renowned for his strength, Lively was not always brave and, when pulling carts across the river, if eels rubbed against his legs he would leap into the air. Who wouldn't?
Set the scene: Puhoi village has served as a location for The Tommyknockers, Sylvia (the Sylvia Ashton Warner biopic), The Brokenwood Mysteries, Sea Urchins and Bridge to Terabithia.
Best website: puhoinz.com
Main employer: Hospitality, tourism and that epic dairy darling The Puhoi Cheese Factory.
Source of pride: The depth of respect for the town's forebears, origins and heritage is palpable.
Town fiestas: Stop in at the farmers' market, held on the last Sunday of each month. Or head to town for June 29, when the arrival of the first ships is remembered with a bit of a knees-up.
Here for a short time: Kayak on the river, visit the museum, browse the town and stop for a pint at the pub or a cuppa at Puhoi Cottage Tea Rooms.
Kids love to: Spend the whole day playing by the river, or running around the spacious green grounds of Puhoi Tea Rooms where they'll find an aviary, a bunny, chickens and a trampoline.
Best park: Puhoi Pioneers Memorial Park has plenty of green space, including sports fields and tennis courts; right by the river there's even a swing you launch yourself into the river from at high tide.
Best facilities: Over the bridge, you'll find well-tended bathrooms, a change table and a shower.
Best walk: If you're after a hefty hike, Puhoi is on the Te Araroa Trail and the Arthur Dunn Bush Track is a 5km beauty. Or simply trot along the loop walk: a 40-minute round trip, it starts with a bit of a climb but you'll be rewarded with magic views of the countryside and picturesque town.
Best place to pull over: Stop at the Puhoi Pub or The General Store, enjoy a beverage and watch the world go by.
Best swim: Pop along to Wenderholm for beach or estuary dipping, or, when the tide is right, join the local kids who jump off the bridge all summer long.
Best museum: Tended by dedicated volunteers, The Bohemian Museum is a labour of love preserving the pioneer heritage. Learn about the first European settlers who worked hard, prayed hard and kicked up their heels to jaunty folk music. One chap, Benedict Remiger, was just 12 years old when he set off alone, without family or friends, to make Puhoi village his home.
Walk the walk: Take the town's self-guided heritage walk and admire the darling old buildings. Brochures available at museum.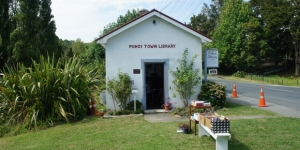 Book it: The tiny Puhoi Library is cute as a button, built in 1913, more than 6000 visitors stop in each year. And there are always books for sale. More than 6000 tourists visit the tiny Puhoi Village Library each year.Library each year.
This bead of light: Visit Inge Chappell at Kleurglass, where she gives lessons and demonstrations in the mesmerising art of bead making. Or visit her gallery in Warkworth to admire the full range of her wares.
Top shop: The General Store is like entering a Tardis, selling more than just regular old groceries, fruit and vegetables, it also stocks a range of delicacies including pastries, cakes, pies, sandwiches, bespoke pasta and coffee. They also serve as the local post office and do oysters and chips for just $10.
Gifts galore: The Trading Post is where you'll go for Native American crafts, including reindeer pelts. Next door, The French Shed sells French provincial wares. Further along the main drag, poke your nose into The Trove, home to all sorts of arty gems, including a taxidermied winged piglet.
Cream of the coffee: The General Store does a mean brew.
Teatime: The Puhoi Cottage Tearooms offers a menu of more than 30 terrific teas, some of them truly exotic.
Baked: The General Store's cake and pastry selection is epic, ditto The Puhoi Cottage Tearooms where baked treats are lovingly homemade and include plenty of dairy and gluten-free options. Uncle Larry's Jamaican-style pies are also tasty.
Holy cheeses: The Puhoi Dairy Company is like a shrine to cheese and it's also a fabulous eatery – the macaroni cheese is crazily tempting, as are their award-winning ice creams. Plus there's a playground and plenty of space for letting off cheesy steam.
Best food: The Puhoi Pub provides hearty grub including nachos, burgers, seafood chowder and dandy mussel fritters. The aforementioned Puhoi Cottage Tearooms is also charming for breakfast or lunch; on a rainy day you could make yourself at home there for some time, gazing out at the gardens.
Wet your whistle: Kick back at the Puhoi Pub for as long as you dare and, considering they do accommodation, why not spend the night there too? Comfortable and quirky, the hotel was established in 1879 and is bursting with memorabilia and curiosities, old photos and archaic tools.
Best adventure: Be sure to kayak the river to Wenderholm – or up the other way if you'd rather – Puhoi River Canoes make it all so easy. And, if the tide isn't in your favour, pop along to Mahurangi Regional Park 15 minutes' drive away.
Wildlife: Ducks, possums, pukekos, eels and plenty of native birds. The cormorants and herons aren't bothered by humans and photographers often snap fabulous pictures.
Best kept secret: Ukrainian imports to the area, Alex and Iryna Kirichuk have set up New Zealand's first organic distillery, where they make medicinal herbal potions for health as well as a range of fine alcohols. Their vodka and gin are both stocked at the pub and are almost guaranteed, within reason, not to give hangovers. And if you don't believe that, go try for yourself – tasting sessions are unforgettable but be sure to book ahead first. According to Alex Kirichuk, "only dogs eat caviar without vodka". spirits.net.nz
The verdict: A Bohemian rhapsody.
Looking for a weekend getaway from Auckland. See if we have availability at the time you'd like to escape.
http://www.nzherald.co.nz/elisabeth-easther/news/article.cfm?a_id=795&objectid=11624706
Please follow and like us: