Five of the best mini-breaks in Auckland
Auckland has plenty about it to love, but sometimes we all need and Auckland escape;  to get away from the big smoke.
If you're already considering a mid-winter break but don't want to break the bank, then a stay-cation rather than a vacation may be just the thing. And one of the great aspects of Auckland, because of its huge sprawl, is that there are some secret little corners that will make you think you're not in Auckland anymore.
Stuff have put together a list of favourite spots on the fringes of the city, which will provide you with a getaway, be it just for the day or an overnighter. Either way, they're guaranteed to show you a new side of Auckland and recharge your batteries. Looking for somewhere to stay on your Auckland mini-break? See if we have availability at the time you'd like to escape.
1. Goat Island, Leigh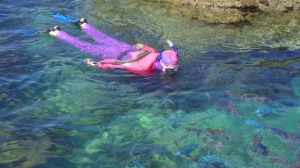 Snorkeler surveying fish at Goat Island Marine Reserve in Leigh.
With pristine waters and friendly fish, the marine reserve of Goat Island in Auckland's rural north is a world away from the hustle and bustle of big city Auckland. Though a dip in the water may not sound like the ideal holiday for a mid-winter break, the locals say its the perfect time to visit, with the weather conditions making for the most crystal clear waters.
You can tog up in a thick wetsuit provided by the local rental snorkelling shop, or if you really don't want to get wet there are kayaks or a glass-bottomed boat offering 45-minute tours of the marine life. And then drift back to Leigh for a meal and a hot toddy. You can make it a day trip or stay at our B&B to make a weekend of it – and check out some of the other local attractions. Goat Island is about 40 minutes' drive from our bed and breakfast.
2. Matakana

Mahurangi River winery is one of the finest of Matakana's selection of vineyards.
So fins and a wet suit are not your cup of tea. Maybe a glass of pinot and a cheese platter is more your style. No problem, the north can cater for your tastes too. A mere hour away from Auckland's CBD a sprawl of vineyards and cafes awaits you.
With plenty of accommodation, such as our B&B, you can easily extend your stay it into a weekend getaway. Enjoy the Matakana Farmer's Market which takes place every Saturday and Sunday with a spread of fresh produce and great lunch food. We'd highly recommend the buffalo burgers. There is also a quality ice cream shop and a gallery of local arts and crafts to bring some of Matakana home with you.
3. Kawau Island

Kawau is surrounded by clear blue water.
Auckland is a city of cars (and congestion and interminable traffic light delays at times). So where better to get away from Auckland without leaving Auckland than go where there are no cars. Get out onto the Hauraki Gulf and try Kawau Island, accessible only by a ferry or a water taxi from Sandspit – 25kms from our B&B. Once you're there we guarantee the big smoke will be well out of your mind.
Take a walk along one of the Island's many tracks, visit the Mansion House to dabble in some history and if your budget allows, stay in one of the Island's cottages overnight.
http://www.stuff.co.nz/travel/themes/short-breaks/79168170/five-of-the-best-minibreaks-in-auckland
Please follow and like us: